A stroll around Oxford will reveal antique and gift shops. If you're looking to buy something for someone special, get ready, because we're going shopping, and buying locally! (It's okay to window shop too, but don't be surprised if you're tempted to buy a gift for yourself!)
Overlooking the Village Green, Bartle's Pharmacy will delight the shopper looking for pretty jewelry such as Silver Forest earrings, the fragrant Yankee Candle line, the ever-popular Fenton Glass, Stephan Baby, Goose Berry Patch cookbooks, "splatter" Enamelware, and many others. They have some great all occasion greeting cards too. Not to mention there's a vast selection of the old fashioned traditionals: delectible chocolates (like Whitman and Russell Stover) and sophisticated perfumes!
If you're looking for a bargain on gently used clothing or household goods, The Common Cents Thrift Shop, at 64 Canal Street (on nearby Route 12), is the place to go. As a gift, you could shop for a pretty platter and top it with fresh fruit, wrapped in cellophane, then all you need is a bow - voila! Or buy a sparkling glass candy jar and fill it with bon-bons - perfect! Inventory turn-over is brisk, but you may find wonderful lamps, decorative tins, dishes, baskets, mugs, flower vases and lots more all at amazingly low prices. Deals abound and all purchase procedes go to the Oxford Food Pantry.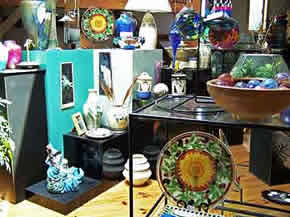 Save some energy because the next stop, at 41 State St. is Gallery 3.2.1, and you're in for a (contemporary) treat. This is a real gallery of some of the highest quality crafts and arts from around the Country. (You could imagine this in NYC, it's so fine.) For the person with everything, this is a great place to shop. One-of-a-kind handcrafted jewelry, blown glass, wooden jewelry boxes, pottery, paintings, and more. Oh, and the talented owners, Bill & Diane Troxell are craftspeople themselves. They make their own stoneware and porcelain pottery right on the premises. (Christmas time, they're open 7-days a week!) Also at the Gallery is Seek & Restore, Custom Refurbished Furniture. Antique and vintage furniture pieces are given new lives refurbished and painted. See their current projects like chairs, dry sinks, dressers, coffee tables, and the like, or have them customize one of yours.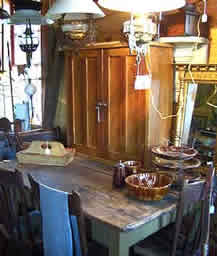 At 38 South Washington Avenue, there's Charlotte's Antiques in the big white house near the High School. Charlotte Blenis, an authority in her field, carries antiques--some are seriously old. This portion of her home is beautifully displayed with vintage trains and toys of great quality, and she also specializes in country "primitive" furniture. But be sure to look for her carefully selected pendulum clocks, crockery jugs, brass bedwarmers, and yellowware bowls. Rare finds only stay a short while. (Visit often.)
Petals & Pretty Things is at 139 South Washington Avenue, and Linda Meek creates silk and dried flower arrangements. Contact her to have something made to order. Linda also knits very beautiful caps and the funkiest striped, multicolored socks around.
In the opposite direction is David Mabey's Antiques on North Canal Steet. This building is big, and tightly packed with antiques, lots of memorabilia, and collectibles. You'll find records (33 rpm-remember?), books, prints, china, glassware, jewelry, furniture, wagon wheels, and on, and on. You're bound to find something of interest here.
Consider gift certificates to Oxford Motors for car lovers or Oxford Grooming for pet lovers. Think about going to Canal Street Hardware to get a shovel for your farming friend, or get an Oxford High School woven throw from the Oxford Historical Society for an alumnus. This is by no means a comprehensive list of all that is available in Oxford, so why not visit and see it all for yourself? We'll be expecting you.