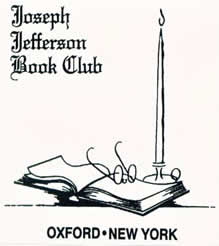 c/o Mrs. Rena Auwarter
P.O. Box 1
Oxford, NY 13830
(607) 843-8535
The Joseph Jefferson Literary Society is the 1st literary club in Oxford, NY, organized in the fall of 1891.
The first book review was "The Autobiography of Joseph Jefferson". The review of the noted actor's life story was enjoyed so much that the members voted unanimously to name the club after him.
The J.J.L.S. celebrated it's 100th anniversary on May 14th, 1992, with a program and display of the club's historic memorabilia by the Historical Society.
Currently there are 14 Literary Society members. Book categories/topics are chosen ahead of time, but book selections are decided by the chosen program presentor. Starting at 1:30 pm with a short business meeting, the Society enjoys a 45-minute book review, and after stays for friendly conversation and dessert! Meetings are held once a month on selected Monday evenings. Locations are held at the homes of member's, on a rotating basis.
At times, the Society donates selected books to the Oxford Memorial Library, and they also are a contributing member to the Community Christmas basket project.
Call Rena Auwarter for information about joining this fun and friendly group. New Literary Society members are always welcome!