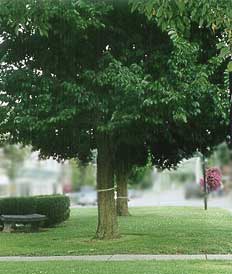 The Oxford Village Tree Board studies and provides recommendations regarding trees, shrubs and other plantings on Village-owned property. The Tree Board also works to promote and preserve trees, shrubs, and plantings; they regulate the planting, transplanting, maintenance and protection of trees and shrubs in the Village to ensure their health and safety. The Tree Board also develops an annual work plan in accordance with Tree City USA guidelines, submitting estimated annual expenses and reviewing planting projects.
Treeboard Links
Some of the Tree Board's activities include:
Supporting Oxford Village's Tree City USA designation
Sponsoring an annual Arbor Day poster competition
Sponsoring an annual Arbor Day event
Arrange Tree Plantings on "Make a Difference Day"
Arrange Memorial Tree Plantings
The 5 seat Tree Board of appointed citizens meets monthly, or twice per month if a special event (like Arbor Day) is upcoming. For more information, contact the Tree Board through the Village Hall at: (607) 843-2512 or email:vgoxford@stny.rr.com . Meetings will be announced on the Calendar of Events, are open to the public, and residents are encouraged to attend.