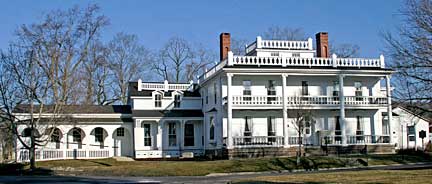 The Oxford Memorial Library is your home town community center for information and entertainment.
A great place to meet friends and neighbors!
The Oxford Memorial Library-a member of the Four County Library System
Location: 8 Fort Hill Park, Oxford, New York 13830. (607) 843-6146 / FAX 843-9157.
Our hours are:
Mon- Thur 9:30am-8:00pm
Fri. 9:30-5:00
Sat. 9:30-1:00

Library Staff

Director

Nancy Wilcox

Clerks

Autumn Markowski, Naomi Cronk, Nancy Morey, Jessica Tefft, Sharon Valentine

Youth Services

Jessica Tefft

BOARD OF TRUSTEES

President:

Matthew Voce

Vice President:

Christine Gregoire

Financial Secretary:

William Troxell

Secretary:

Bill Brower

Julia Bogardus

Jodi Carey

Fred Lanfear

The Oxford Memorial Library Board meetings are the second Thursday of each month at 7pm in the board meeting room at the library
Programs:
Book Blazers, during school year Tues and Wed 3:00-4:00
Summer Reading Program July
Access our Four County virtual reference desk and on-line card catalog at www.4cls.org .
About the Historic Library building:
The Oxford Memorial Library is located on the site of an ancient Indian Fort on Fort Hill Park in the picturesque village of Oxford, NY. Theodore Burr, the famous builder of covered bridges, and inventor of the patented Burr Truss, built this Federal style house, as a home for his family, between 1809-1811 (while also building the Esperance Covered Bridge across the Schoharie Creek in Esperance, NY). The house reflected the financial rewards of his reputation as a master bridge builder. It is in fact, the only structure that Burr built which remains in existence today. He spent only two years in his Oxford home when business commitments required he move to Pennsylvania where he remained until his death in 1822.
Wings were added to both sides of the Burr house at a later, unknown date. The home was later occupied by the families of Ira Wilcox, Oxford merchant, from 1814-1873; Benjamin Cannon, lawyer, 1873-1890; and also served as the Rectory for St. Joseph's Church 1890-1899. In 1900 the building was given in memory of Eli Lyon Corbin and Abigail Taintor Corbin, his wife, to the Village of Oxford to be used as a library. It has been a library since 1901, and this remarkable piece of architecture was listed on the state and National Register of Historic Places in 1981. For more information about Theodore Burr and his accomplishments go to the Historic Section
Burr House is 200-Years-Old
July 2, 2011, Assemblyman Clifford W. Crouch presented the Oxford Memorial Library with a Legislative Resolution commemorating the bicentennial of the Burr house. The presentation took place during the grand opening of the Theodore Burr Covered Bridge Resource Center.
Upcoming Programs: .
Previous Programs:
Sir William the Crusader (William McManus) shared his knowledge of Medieval life and the origins of knighthood, and Nasty Ned the Frontiersman (Paul Stillman) blended folk tales and historical facts about life on the NY State frontier.