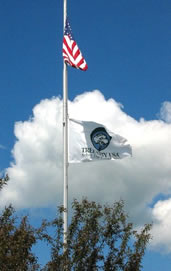 In 1993, the Oxford Village Tree Board officially joined "Tree City USA" having Arbor Day Celebrations with the support of the National Arbor Day Foundation (in cooperation with the USDA Forest Service and the National Association of State Foresters). Tree City USA requires towns to: plant trees; encourage individuals to plant and care for trees to enrich the environment; and expand the awareness of the need for tree planting and care by increasing publicity about Arbor Day and the number of people who celebrate it. (For more info. visit: http://www.arborday.org/).
Arbor Day was founded by J. Sterling Morton in Nebraska in 1872, National Arbor Day is celebrated each year on the last Friday in April. Morton's simple idea was to set aside a special day for tree planting, which has been observed for over 130 years. Today, Arbor Day is celebrated all over the U.S. and in many other countries too.
On Arbor Day in Oxford, the last Saturday in April, the Village flies the official Tree City USA flag and the Tree Board continues its tradition of giving away small trees in LaFayette Park, encouraging tree care and environmental stewardship. The local papers, the Oxford Review-Times and The Evening Sun, always announce the event, and people from all around come to celebrate with a tree.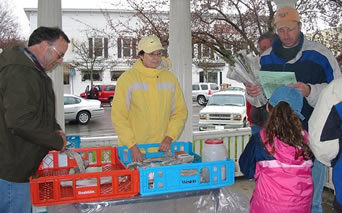 Over the years several DEC Sherburne Foresters have presented the Oxford Mayor, Terry Stark with the Tree City USA plaque and flag. They have been Robert Off, Greg Owens, and most recently, Paul Romanenko.
The Oxford Tree Board encourages interested art students, from Oxford Academy's 5th grade, to enter the annual Arbor Day poster contest. Based on the Arbor Day Foundation's teaching guide, fifth grade students learn about the impact that trees have on the environment and the energy benefits trees provide.
See tree-based educational activities designed to instill a love of nature from the Arbor Day Foundation here: http://www.arborday.org/celebrate/educational-resources.cfm
Middle School Art Instructor, Charity Gipp, directs and inspires her students with the lesson plan to create contest entries. During the Oxford Arbor Day celebration, winning students, along with Middle School Principal Kathleen Hansen, read Arbor Day poems and display their posters in LaFayette Park.